The Background:
I am a busy mom who admittedly didn't put self care high on my priority list, which meant my skin care wasn't being done properly. You know what I mean- a quick rinse in the shower, maybe slap on some moisturizer in the morning as you're getting kids out the door, and maybe wash up before bed with some cream. I suffered with dry, flaky skin especially to my cheeks and forehead and was prone to redness and sensitivities. Then I started studying herbalism and took a botanical skin care course and that's when the light bulb went off. I felt I needed to formulate and create a simple skin care regime that was quick, nourishing with herbs and that wanted me put my self care as a priority. It was time to care for my ageing skin and take some of that love that I have for my family and put it into myself too.
I formulated our herbal and all-natural skin care regime which is suitable for ALL skin types. It's a herbal packed, anti-aging and antioxidant rich skin care set that is nourishing and simple. Not to mention, it was featured in Vogue magazine summer of 2021. We have made it a three step regime including our Renew Oil Cleanser, Refresh Face Toner and Rejuvenating Face Serum. It works best all together to see maximum benefit but if you're in a dash, then you can get by with a few toner sprays and drop of serum.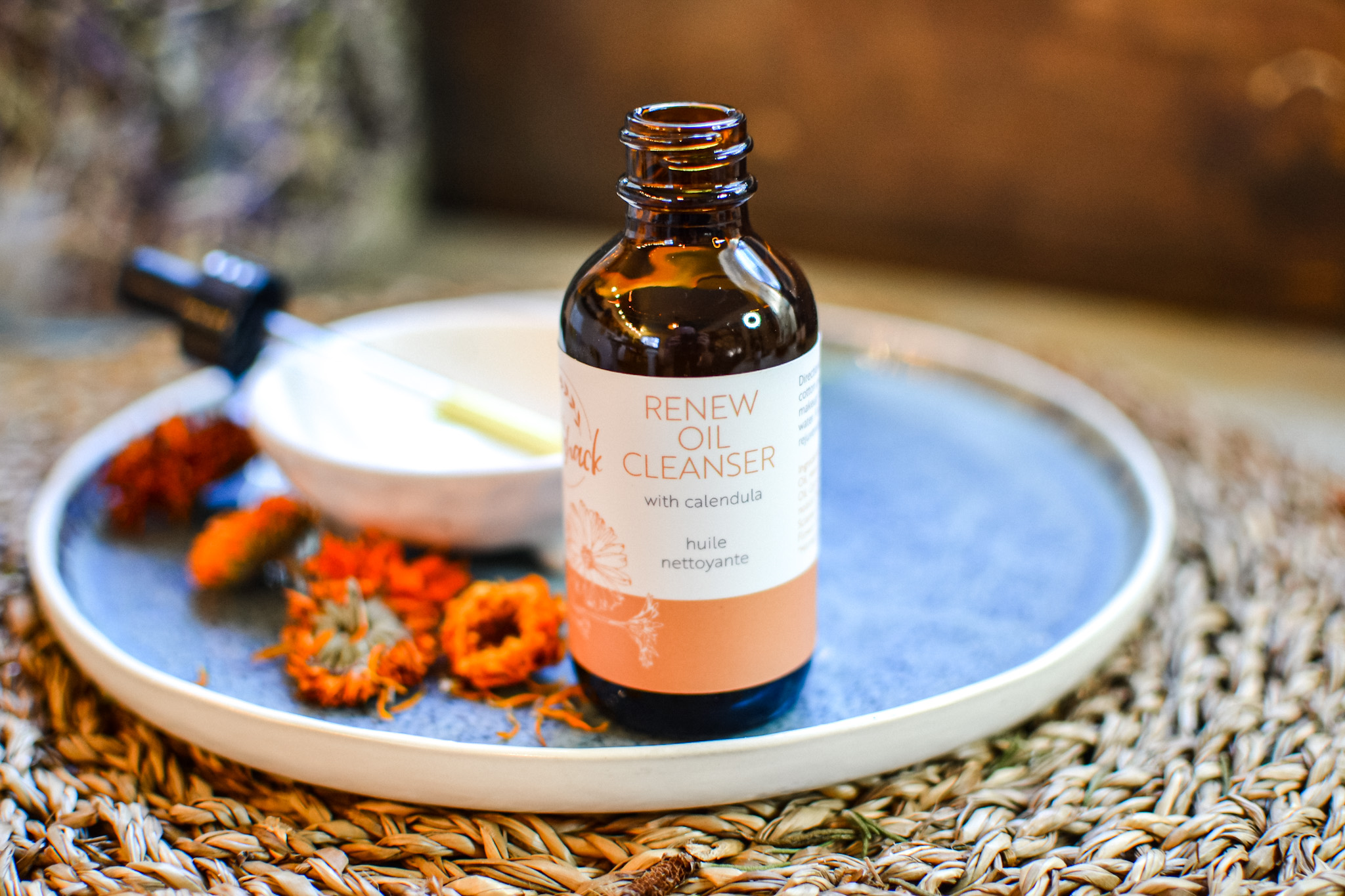 1. Renew Oil Cleanser
What is an oil cleanser? Well ours is an all-natural hydrating oil that is infused with our homegrown calendula flower petals that will nourish and soften your skin. Cleansing with oil will effectively tackle sebum (oil produced by the skin) while balancing your skin. Cleansing helps remove makeup, dirt and bacteria from your skin and prepares the skin to better receive a toner and serum.
How To Use:
I prefer to use reusable cotton pads but cotton balls or a gentle face cloth will work too. Add 1-2 drops of the cleanser onto the pad and add a bit of warm water. Using gentle strokes, cleanse entire face, avoiding your eyes. Start in the middle of your face and work outwards, following the natural curvature of your face. Once your entire face is cleansed, finish off by rinsing with warm water. Pat dry when finished.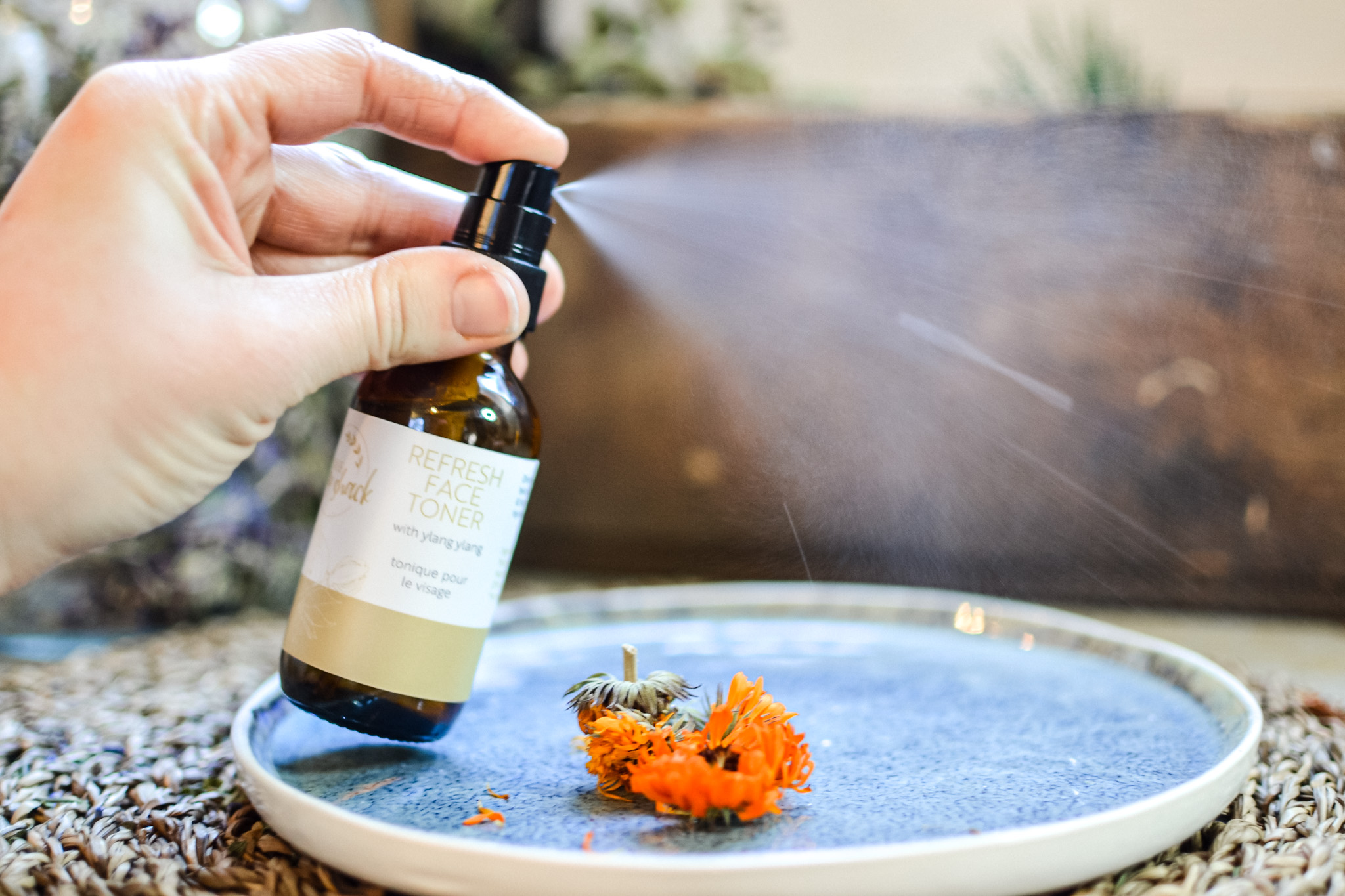 2. Refresh Face Toner
I know I said simple and you're thinking, but why do I need a toner? BECAUSE it's life changing! I never knew before how important this step is. This step makes all the difference. Our toner is a hydrating mist made with ylang ylang floral water and is calendula infused. The witch hazel has astringent properties so it helps tighten pores. The toner adds that extra hydration and helps lock in the moisture. It will help with redness, irritation and inflammation… not to mention how REFRESHING it truly is. If you know, then you know.
How to Use:
Close your eyes and spray 2-3 mists around your face, holding your hand about 6" from your face. Don't pat dry as it will quickly absorb into your skin. Follow with an "ahhh".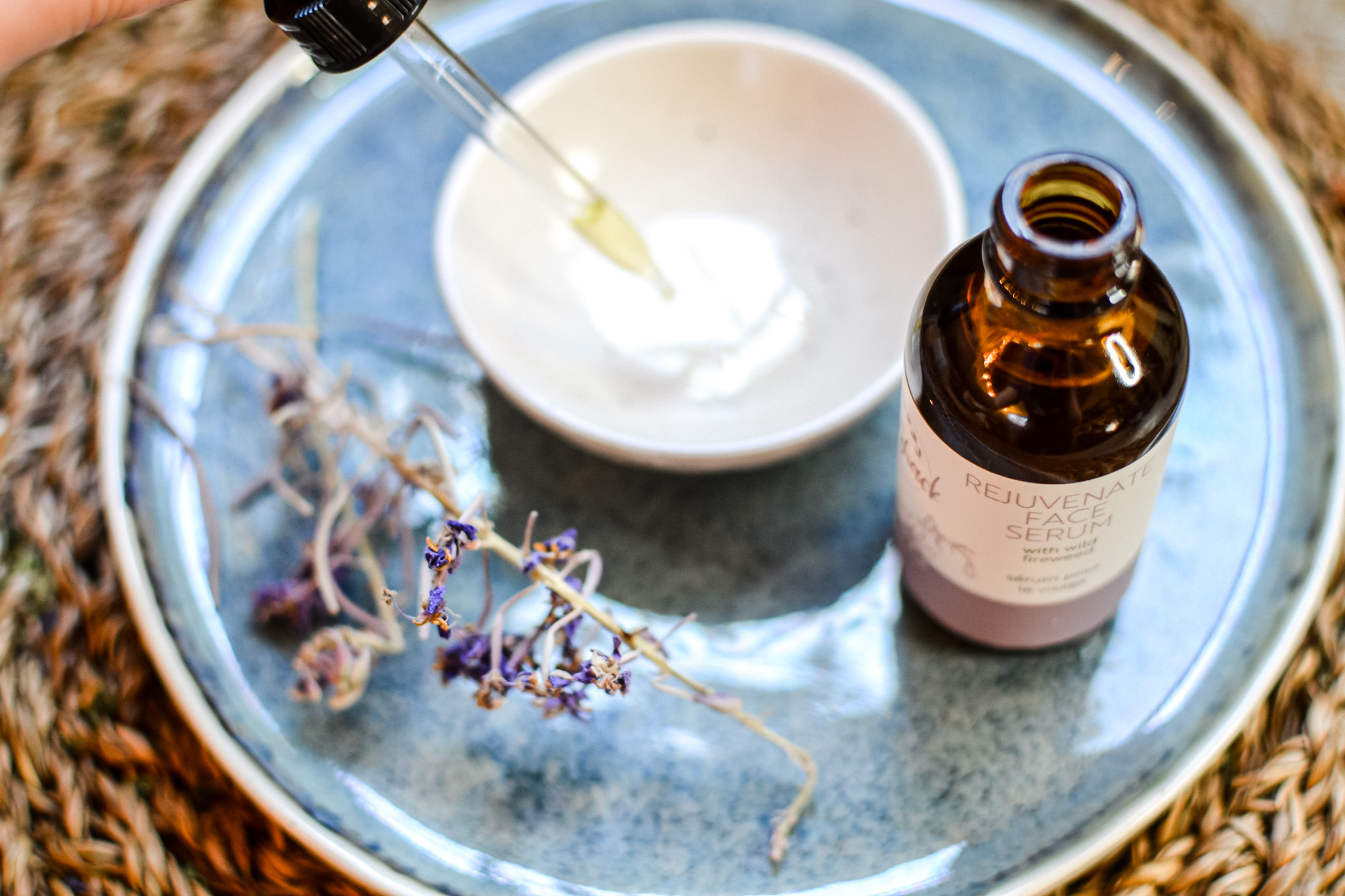 3. Rejuvenating Face Serum
This highly reviewed, internationally featured serum is a game changer. Infused with wild fireweed and yarrow, this serum packs a powerful herbal punch. Yarrow is known for it's astringent properties to help tighten skin and minimize pores. Fireweed is known for anti-acne properties and for bringing life back to a forest after a fire. We know this herb brings life and glow back to your face as well. Combined with fine-line wrinkle fighter jojoba oil and rosehip seed oil, this serum is sometimes all you need. As we age, the skin's natural production of sebum decreases which leads to diminished elasticity, dry skin and fine lines. Our face serum is a natural way to deeply nourish and replenish the skin with essential fatty acids and vitamin-rich reparative oils.
How to Use:
Depending on your bottle size- 1 oz (30mL) you can use 1-2 squirts, and 2 oz (60mL) you can use 1-2 drops into the palm of your hand. Starting around your eyes, mid forehead and smile lines, gently make small circular motions and spread outwards covering your whole face and neck. The essential oil synergy in this serum is calming so take a few deep breaths during this step.
TIP: This serum works great in combination with a gua sha massaging stone or a jade roller if you have extra time to really massage your face muscles.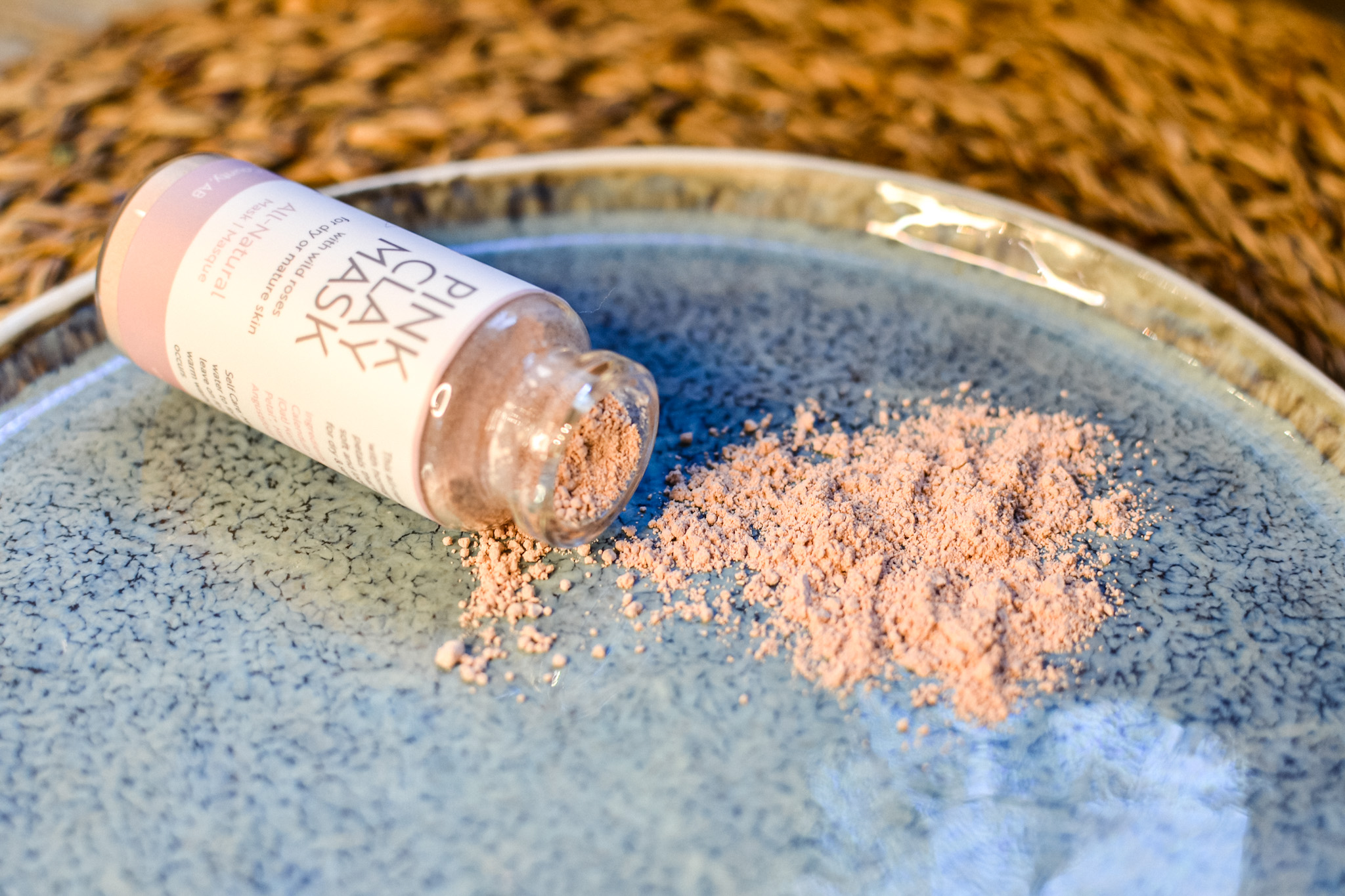 Want To Indulge Further?
When you have those evenings of extra "me-time", then you can add in our Clay Masks (Pink for dry/mature skin and Black for oily/combo skin) in-between the oil cleanser step and toner step. Masks are an excellent way to draw our impurities, improve circulation, and feed your face with needed nutrients.
Our Pink Clay Mask is made with dried Wild Rose Petals and dried homegrown crab apple powder. Our Black Charcoal Mask is made with dried wild yarrow herbs and dried wild Saskatoon berries. Sometimes you just need that extra nutrient boost!
TIP: To keep the clay mask on longer, once it is drying you can add a few sprays of the toner mist to re-hydrate the mask.